Main content starts here, tab to start navigating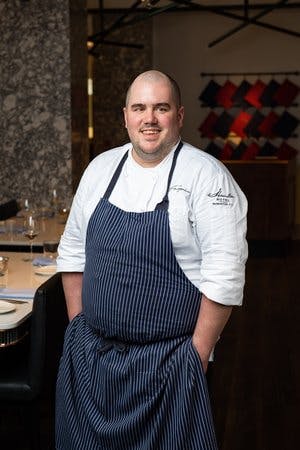 About Chef Colin Clark
Chef Colin Clark's culinary career began at an early age, working summers at the Jersey Shore as a dishwasher and line cook. After high school, Colin worked as a line cook at Smith & Wollensky on Rittenhouse Square in Philadelphia. He then joined STARR Restaurants at the critically acclaimed French Bistro Parc, where he developed a deep appreciation for classic French technique.
During the next three years, Colin worked for James Beard award-winning Chef Mark Vetri. It was Vetri, along with his co-chef and partner Brad Spence, who instilled in Colin a lifelong affinity for the traditional Italian culinary art and technique of making pasta, bread, and charcuterie.
In 2013, Colin rejoined STARR to open Le Diplomate in Washington, D.C., where he met his greatest culinary influence Brinn Sinnott. When Brinn left Le Diplomate two years later to assume the helm at Fiola Mare, Colin quickly joined him, ultimately rising to the position of Chef de Cuisine.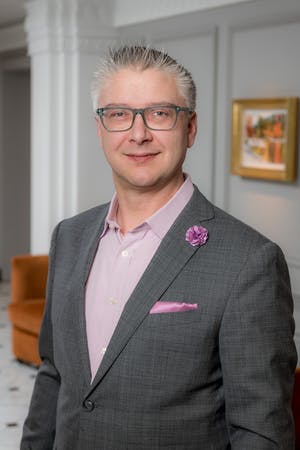 Thomas Delasko, General Manager
General Manager and Sommelier Thomas Delasko began his career in 1987, working at a well-known Italian restaurant in New Jersey. Thomas has worked in the hospitality industry for over 35 years, serving as a Sommelier at Westwood Country Club in Vienna, Virginia, Sommelier and General Manager of Walker's Grille in Alexandria, Virginia, and Sommelier and General Manager at the critically-acclaimed II Pomodoro in Somerville, New Jersey.
With a commitment to craftsmanship, our Via Sophia team works hard behind the scenes to deliver a seamless dining experience.
Here, the focus is on quality, consistency, and hospitality. We use only the freshest of ingredients for our made-from-scratch Italian dishes. And we pride ourselves on creating a warm and welcoming atmosphere for every guest, any time of day.